Even though I was kissed-on-the-forehead-good-night, my sleep that night in Jericho was rather bad. Really tired, I attended my taxi driver host's (rather long) morning tour, taking people to work and kids to school. Afterwards, he dropped me at the Northern tip of the Dead Sea and we waved good-bye.

Sun rising over Jericho's palm trees.

Crossing in Jericho, with camels.

By the main square, kids on their way to school (and famous street art in the background).

Happy family in Jericho.
Now, the Dead Sea, from far away, seems like a stupid clichée. From close and in real, it's that exact clichée – but so absolutely great, magical and worth it. I was the first person on the beach in the morning, so I got a private floating lesson from the lifeguard (it's actually harder than it looks, but I was immediately offered a Dead Sea life guard job!), swam out further than allowed, got myself tanned (and terribly sunburned in two tiny spots I forgot to put SPF on…), made some friends and was greatly amused by the international bus-loads of tourist arriving, dipping in for five minutes and then leaving in an instant.

(via iPhone)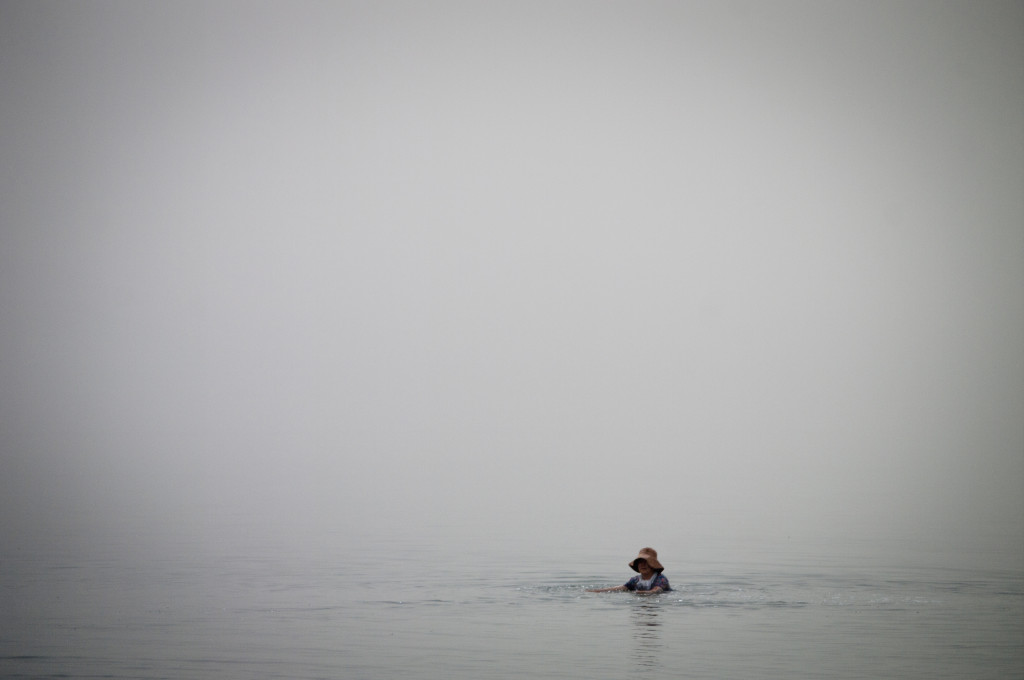 (via iPhone)

Mudd and float impressions at Khalia Beach.
I had decided to go south for the night, but missed the last bus, so a great guy working at the beach invited me to have dinner with his family back in Jericho and offered me to sleep over. I did and got to know a wonderful, huge Palestinian family in an age range from around 1 month to 70 years old, all living under one roof, filled with love. It was amazing. When N called me late at night to ask if I had found a place to sleep, I had to whisper (I was lying in bed in a room with six other girls sleeping…). He did think for a moment that I got kidnapped, but I could prove him wrong.

Youngest family member in Jericho.

The lovely mother.
The next morning, I went back to the Dead Sea, I floated some more and finally decided to take the bus from the main road down south, out of the West bank towards Masada – because a ton of people, including my super excited gynaecologist, had told me I had to go, if possible for sunrise. So that was my plan, look for a bed nearby and get up early to climb up the rocks to watch the sun crawl up over the silver sea.

New friends at Khalia Beach.
First I waited for the bus for more than an hour, getting nervous a bit, as it was usually supposed to have passed me twice already, and I was in the desert, not carrying big amounts of water on me (and I am pregnant, right?). Finally a truck driver stopped at the bus station, nestling on his truck and finally asking me (in Hebrew, I think – or Arabic… I don't know!) if I needed a ride. Of course I did, and I jumped on the truck.

My bus stop.
Now, have you ever been in a real, huge truck? It's amazing! I sat so high it felt as if I was the queen of the desert (or a run-away?), fast on the road, with a big panoramic window in front of me. The lovely driver tried to tell me things (and I told back) – but there was no way we could communicate. He finally called a friend who spoke English to make sure where exactly I wanted to go and smoked many cigarettes and blinked at me proudly when I was completely smitten with the landscapes all around us.

Abandoned houses by the road.

My life saver/truck driver.

Very excited!

My hitchhike through the desert.

So pretty! (via iPhone)

Trucker style.
When we passed Masada, he dropped me by the road, and a lovely Tel Avivian with her old mother took me up the rest of the hill in her car. Masada, here I was. It was too late to get all the way up to the fort, the only hotel within walking reach was booked out and the McDonald's in the valley scared the shit out of me (though I love McDonald's, but we were in the desert – right?). So I ate some humus in the tourist trap and jumped on the next bus back to Jerusalem (taking some awesome street photos from the bus), and from there to Tel Aviv. It was an impulse that turned out to be right I guess and I was happily back with my lovely hosts in Tel Aviv by late evening, sharing my stories and munching cheerios. Yum!

Desert on the way back to Jerusalem.

Most beautiful Dead Sea coastline.

(via iPhone)

(via iPhone)

(via iPhone)

Street photography Jerusalem (via iPhone).
All photos: Carolin Weinkopf