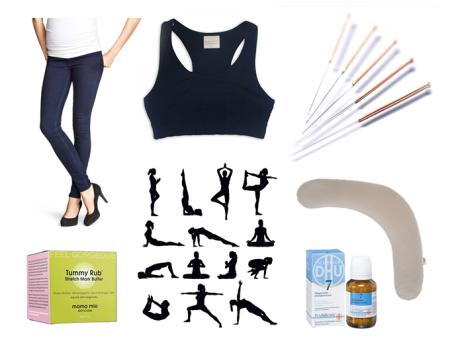 Upon multiple requests, I want to give a small insight into what helped me through my pregnancy with mini-me. I will do a little (!) series of mama content, because suddenly I know a lot of people who are pregnant and why not answer all your questions here at once. Next week I'll try to write a post on travelling with a newborn, something a lot of people seem to consider me a pro in.
– H&M Maternity Jeans: I found these to be super comfortable and perfectly adjusting to the different stages of belly size. They looked great at 12 and at 38 weeks (that's as far as I got in weeks, as mini-me arrived two weeks early), plus they are great value for money at around 20-30 Euros. I wore these even postpartum, because they were just really pretty and comfortable aaaand they covered my not so pretty belly while nursing.
– Mama Mio Tummy Rub: I saw a crazy girl raving about this in a YouTube video and shoot, I got hooked! I basically tried every lotion for my belly during pregnancy, first because, like every preggo, I was scared of stretch-marks, and second because my skin in that area was super itchy at the time. This stuff is a bit pricy, but my girls got it for me for my birthday and I loved it. The smell is nice but not 100% me – BUT it lasts really long (I still have left-overs and used it every day for three months), moisturizes very deep and feels amazing on the bump. I would definitely invest in it again. And yay, I didn't get any stretch marks! I also recommend Dove firming body lotion as a drug store alternative, I loved the smell and cooling effect while I was pregnant and it was one of the few lotions that kept me moisturized for more than a couple of hours.
– A Sports Bra: Everyone told me to buy nursing bras when I was pregnant, but that's complete bullshit – first of all you definitely have NO idea of the size of your boobs after birth when you are pregnant and second because they were all weirdly shaped and uncomfortable and itchy. I actually found the perfect one where I least expected it – at C&A. It's a simple microfiber sports bra and cost around 10 Euros. I loved it so much that I bought it three different colors and I actually prefered these to any nursing bra even after birth and still wear them when I work out.
– Pregnancy Yoga: I had never really done yoga before I was about half way through my pregnancy. Right after my pregnancy test I was super motivated and went jogging like every other day (for what… two weeks?), but then I gained weight and the belly grew and I stopped because it didn't feel right anymore. Yoga saved me, it was not as intense but still made me sweat and additionally gave me an ultimate calmness of mind. I really enjoyed the course I did with a midwife, but I would definitely recommend to do this in a real yoga studio or a gym, because it will be more of a workout and less chanting and all. Though chanting still calms mini-me when iffy, I think he heard me back then and enjoyed it. Another advice is (for Germans), ask your health insurance if they cover the course, they might (mine did, but only after I asked them!).
– Acupuncture: I had a quite easy pregnancy (but hence a terrible birth…) with no morning sickness, no breakouts, a manageable weight gain and I felt pretty fit until the moment my water broke (and even afterwards, because I had no signs of labour until induced by a terrible thing called castor oil mixed with mango juice, phew!). The only really annoying and almost permanent ache I had, was around three or two months before my due date, when my ischiatic nerve started to hurt (not so so bad, but permanently… an ugly pain going down from your back into one of your legs). My midwife recommended acupuncture (and guess what, my health insurance covered, again!). I didn't really believe in the needle magic, but it helped instantly and permanently. After a few sessions my pain was gone for good. I am now a firm believer in these needles!
– A Nursing Pillow: I thought these were money-makers and of no use before my belly grew very big and I was not able to sleep anymore, because that huge thing was in the way, always. My boyfriend hated this pillow because after I got it, it was more important than him: it was my best friend, life saver, just amazing. It hugged me from all sides and gave brilliant support – I just really loved it. This was pricy and I recommend to buy a large-sized and not too cheap one: it's worth it. I used it until the last day of pregnancy, then during nursing (and sleeping, still!) and now we use it to soften mini-me's toddler bed on the side where he can climb out, so he doesn't hurt himself on the hard wood when partying all night long. He loves it, too.
– Magnesium Phosphoricum a.k.a. the "Hot Seven": I tend to get migraines a few times a year, especially when short on sleep or super stressed. Usually nothing helps except of the really hard stuff you only get in small doses, but while I was pregnant I couldn't take those. This was recommended to me during a harsh migraine in the early weeks and I love it until today: It's homeopathic pills (Schüßler Salt #7) that you throw in hot water and drink them slowly. This worked really well for me and instantly made me drowsy when I couldn't sleep because of aches or pain. I still use it instead of aspirin or paracetamol, it's amazing.
Images (in order of the text about them): hm.com, carapharmacy.com, organicthings-shop.eu, room4truth.com, amazon.com, schuessler.dhu.de